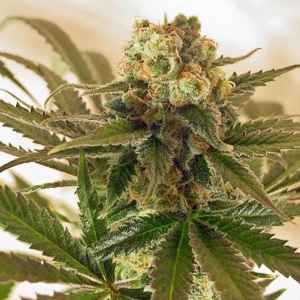 Warlock
Type: Hybrid
Genetics: Skunk x Afghan
Climate: Indoor / Outdoor
Flowering Period: 55-60 days
"Warlock" connotes a master of the dark arts, a male witch or magus. Magus Genetics' Warlock strain comes from a wizard's pouch of indica-dominant bag seed. Magus estimates that, for the current generation of Warlock, the male was inbred for two generations longer than the pre-2000 Warlock, then crossed back to the original Warlock mother. The pot that springs up from these seeds offers good indoor growing traits and a thinker's high.
Appropriately enough, this variety finishes flowering around Halloween, so it belongs indoors in climates with a gloomy autumn. Given good indoor light, the plant grows outward almost as much as it grows upward, filling the available space. Growers may have to be ruthless in their pruning of branches or the removal of plants to avoid crowding and maximize the light to the buds, and therefore the yield per square meter. Although Warlock likes to branch, it is not very leafy – those that do show up are medium-sized and easy to manicure. With proper attention to space, Warlock can be grown in any style or any of the usual mediums.
With a raisin-like palate verging on sour candy and a stimulating buzz, this strain is a good choice to replace sweet tobacco as the companion to coffee. A Warlock joint paired with plenty of good java can aid focus, dry up sodden thoughts, and may help relieve attention problems like attention deficit / hyperactive disorder and depression. Warlock won third place in the 1997 High Times Cannabis Cup (bio category) when entered by the Bluebird coffeeshop.
Although indica dominant, this plant really combines some of the best Indica and Sativa characteristics. Short and bushy during veg. but grows huge compact buds with few leaves in flowering. Few medium sized leaves with a massive amount of flowers make it easy to manicure. The clear white pistils change to a tan/pinkish colour when ripe. Strong sweet smell with a tinge of sour, reminds of fresh fruits. The effect is a strong high, more felt in the head than in the body.