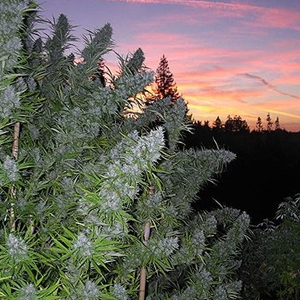 Walkabout
Type: mostly Indica
Genetics: Thai, Haze, Indian, Early Skunks, Mexican and New Guinea
Climate: Indoor / Outdoor
Flowering Period: 7-9 Weeks
The Walkabout strain is bred by Mr Nice Seeds and is an "old school" genetic. A selection of mixed outdoor varieties with all genetics of supreme sources including Thai, Haze, India, early Skunks, Mexicans and New Guinea. Highly recommended for those in need of a walkabout. A guaranteed recipe for outdoors or greenhouse cultivators, with its range of early finishes and a few late flowers.
Indoor growing is not recommended due to variation of sativas present but this is not a rule by any means. In the northern hemisphere it should be completed by September/October/November and in the southern hemisphere by April/May/June. For the inexperienced growers to the most advanced. Highly recommended for first-time outdoor growers.
An array of mixed outdoor strains having all genetics of great sources which includes Thai, Indian, Haze, Early Skunks, Mexicans and New Guinea. For your novice growers to the most sophisticated. Strongly suggested for first-time outdoor growers.
A winner to those with financial budgets, trying to find something from well picked landraces.