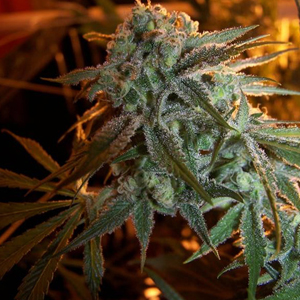 Trainwreck
Type: Indica
Genetics: Hindu Kush, North Indian and Skunk
Climate: Indoor
Flowering Period: 50-60 days
Trainwreck is a one of a kind pure sativa that is a favorite among both medical marijuana user and recreational smokers. The characteristic that stands out the most when describing Trainwreck is its unmistakably pungent smell. Trainwreck's smell and taste are so unique, that you will easiy recognize it in any wreck hybrids you may come across.
This is an original strain that has a hazy history with a couple of different stories of origin floating around. It is believed that the original Trainwreck plant first appeared somewhere in Northern California, possibly Arcata, or Humbuldt County. This is no surpsrise, as this area has become one of the best bud producing locale in the world.
Trainwreck is very popular among recreational smokers because it is very tasty, and being a sativa, offers a clear-headed, euphoric high. On the other hand, this particular strain is also admired in the medical marijuana community for its ability to relieve muscle tension. It is perfect after exercising or playing sports, when you muscles cool down and start to stiffen up.
Some tips for growing Trainwreck include expecting flowering around 8 weeks indoor, or around early October outdoors, and bud production of up to 70 grams per plant.