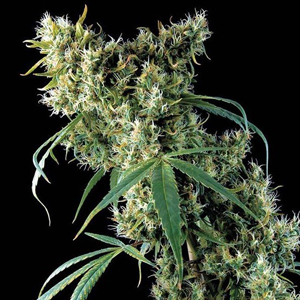 Silver Haze
Type: Sativa
Genetics: Skunk, NL & Haze
Climate: Indoor / Outdoor
Flowering Period: 65-75 days
Silver Haze is the first true Indica-Sativa hybrid. Haze, the most powerful pure Sativa in the world, has been carefully combined with high-potency Indica strains, which were made less dominant through repeated back-breeding. The Indica crossing shortens the height and growing time as well as increasing the size and density of the sativa-type buds without affecting the intense Sativa high. Silver Haze has uniform growth patterns and produces heavy amounts of thick resin glands on airy sativa-type buds that compact at finish. The smell is an incredible overpowering spiced pine Haze aroma mixed with sour fruit that adds a gentle bite to the tangy full-bodied Haze flavor. The Indica crossing also does not affect the intense uplifting Haze high of deeply cerebral and giggly with a slight trippy edge.
The first Haze ranks as a vintage masterpiece of cannabis breeding, a harmonious blend of complementary equatorial genotypes which is widely regarded as the purest and most powerful Sativa ever created. Sensi´s original, award-winning Silver Haze seed strain distilled the sunny cerebral magic of her towering parent into a manageable hybrid with great indoor potential.
Now, as a result of the program to breed a reliable, rewarding and 'Hazier´ feminised version of the strain, Sensi Seeds makes Silver Haze #9 available to the public for the first time!