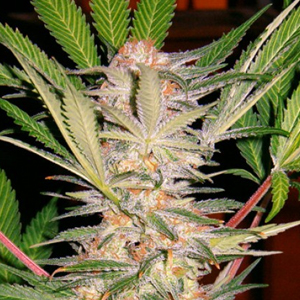 S.A.D.
Type: mostly Indica
Genetics: Black Domina
Climate: Indoor / Outdoor
Flowering Period: 8-9 weeks
From the self-pollination of one of our strongest and most aromatic Black Domina mother plants. The in-breeding of this supermother produces resinous dense buds of intense aroma and musky flavours inherited from its Afghan ancestors. S1 seeds are very homogenous. Easy harvesting and very resistant to pests and fungus. Strong, sweet aroma.
Autoflowering of our strain S.A.D. S-1. Result of the cross breeding of our best autoflowering stump of S.A.D. S-1. Automatic of superior quality, with dense buds and big resine production, with a sweet and musky intense aroma, quick flowering, strong effect and a big strong hybrid. The revolution of the autoflowering has arrived, at the end of the flowering these plants reach the same resinous and desireable aspect as their non-autoflowering sisters.