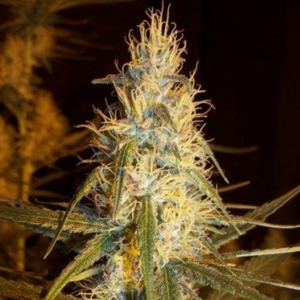 Pink Floyd
Type: mostly Sativa
Genetics: Critical Mass x Haze
Climate: Indoor / Outdoor
Flowering Period: 10-12 Weeks
Pretty critical indeed! This strain produces many phenotypes one fruity Haze with a plethora of aromas appears, it is like a smorgasbord of fruits and berries and piney lemons spice…There is also a good yielder in this combination to boot!
Robust, swelling buds are the staple of Pink Floyd and you may just realize what the dark side of the moon looks like after lighting up this psychedelic bud. The most outstanding characteristic about this weed has got to be the overpowering fruitiness on both the exhale and inhale. Prepare for taste-bud-overload with this tropical smoothie-like strain.
A fairly versatile and vigorous strain, these ladies will flourish almost anywhere in any type of growing environment. It is recommended however, that when cultivating Pink Floyd outdoors in the Pacific Northwest, to do so in a greenhouse, to ensure timely and proper finish. Otherwise, expect a full and plentiful yield that may actually intimidate you with how much product you get in return for tending to just a few small clones/seedlings. 10 to 12 weeks of flowering is very typical for growers of this bud and she'll thrive indoors in a hydroponic environment as well as soil. As the breeder puts it, this strain is for someone looking to branch out into Haze hybrids, but should not be a first-time or novice grower.