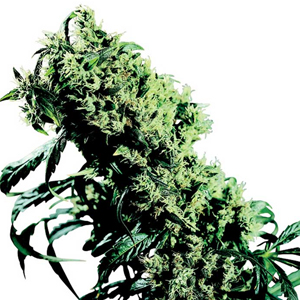 Northern Lights #5 x Haze
Type: Hybrid
Genetics: Northern Lights #5 x Haze
Climate: Indoor
Flowering Period: 9-11 Weeks
Northern Lights #5 x Haze is the first 50% Haze crossing mixing in the potent Northern Lights to shorten growing times down and to beef up the volume of the airy Haze buds. The result is a vigorous cannabis hybrid that has lush growth patterns with large bud formation and is only slightly longer flowering than other of Sensi's award winning cannabis varieties. It delivers high yields of superb quality buds with a zesty sweet and pungent Haze smell. The taste is sweet and spicy with a strong Haze aftertaste and the effects are a refreshingly uplifting cerebral high with a slightly trippy edge.
Opposites collide in perfect hybrid fusion! Feminized Northern Lights#5 x Haze balances the finest features of soaring tropical Sativa and voluptuous, earth-shaking Indica. Universally regarded as a high-point in cannabis breeding, many weed scholars consider her unsurpassed. Her tendency to make a permanent impression on people owes a great deal to the fact that her Sativa genes are fully and joyfully expressed, instead of being dominated by the power of her Afghani parent.
Expect significant height gain from feminized Northern Lights#5 x Haze. Gaps between internodes are quickly filled by long, running colas. At the mid-point of blooming main stem and branches are completely obscured by sticky, profusely hairy buds which then swell in every direction until the end of flowering. It's quite common for Northern Lights#5 x Haze to produce terminal buds longer and thicker than an arm!