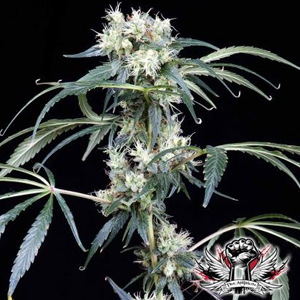 NL5 Haze Mist
Type: Hybrid
Genetics: Northern Lights 5 X Haze Mist
Climate: Indoor / Outdoor
Flowering Period: 11 weeks
NL5 X Haze Mist seeds carry their genetic heritage in their name. It's hard to go wrong with Northern Lights hybrids, and the idea of crossing it with a Haze was genius. NL5 X Haze Mist marijuana keeps mostly to the Sativa part of its heritage, but the Northern Lights 5 content brings some welcomed Indica vigour, yield and buzz to the mix.
NL5 X Haze Mist cannabis will form a fairly large plant that will stretch considerably during flowering. Buds appear all along the lengths of her sturdy branches, coming together in long, dense kolas. The multiple budding points on NL5 X Haze mist cannabis make her a good candidate for Screen Of Green techniques.
The hit from NL5 X Haze Mist is a good reminder of why we hybridise Sativas and Indicas. A complicated high that is both cerebral and physical and the ideal hit for those who want the best of both worlds.