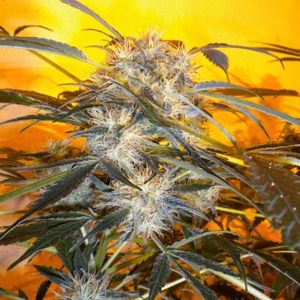 Nirvana Sky
Type: Sativa / Ruderalis
Climate: Indoor / Outdoor
Flowering Period: 100 – 120 days from seed
This Super Auto is a mostly sativa strain. With Nirvana, the sky is near, it has a sativa taste and and effect that energises the body and mind.
For a true auto flowering sativa strain – this is it!
The Nirvana sky is a crossbreed of two unidentified marijuana strains. It is a hybrid ganja that is quite famous with those who like planting the weed outdoors since it has been found to thrive well in such growing environment. This pot is one of the few crossbreeds that achieve a characteristic high height ranging between two to three meters. It has partly earned its name the sky due to its seeming desire to grow and reach the sky. To attain that height it takes a period ranging between 100 days and 120 days which is quite long compared to other hybrids that take half the time.
The characteristic height of this weed gives it an advantage of high yield ranging between 100 and 250 grams per plant which is relatively productive enough. This cannabis is famous for its sativa taste. When one smokes this weed, one feels a burst of energy both in body and mind which is equated to a feeling of reaching the sky.