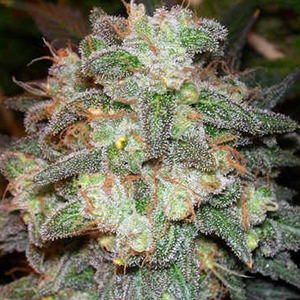 Motavation
Type: Hybrid
Genetics: Sensi Star x Warlock
Climate: Indoor / Outdoor
Flowering Period: 50-60 days
Motavation may seem like an ironic name for this highly relaxing couch-lock strain, but the quality it calls to mind, one stoners are stereotyped for lacking, is not its origin. It is instead named for a favorite band of the Magus Genetics crew (see next page), a band who named themselves for mota, the Spanish word for pot. This strong indica will "mota-vate" smokers to put up their feet and take it easy for a while.
This strain's indica / sativa mix can only be estimated since both parents have an unsertain or top secret ancestry, but Motavation's stone and appearance confirm her indica-dominant genetics. Short and squat, this plant is a little leafy and shows moderate stretching at flowering. The copious resin on her leafy matter may put you in the midn to become more earth friendly and "recycle".
This indoor plant is best suited as a multi-branch grower. her lateral growth is strong, sometimes even equalling growth on the main stem. Sea of green cultivation is also possible, using a short vegetative time. When vegetated for 4-5 weeks, plants will reach approximately 2.5 feet and yield about 80 grams apiece.
Matovation's odor is strong and penetrating with a touch of petrochemical, like turpentine or fresh paint. The flavor is much softer and richer, a strong complexity of carbon and sweetness like sweet tobacco and raisins. The high starts in the head, as your thoughts wander off, soon followed by a deeply relaxing but not necessarily soporific body stone. the reduction of tension may be just what some people need to drift off, but even if it doesn't make your eyes droop, it is not really a sensible day smoke choice. This variety may leave you couchlocked and lost in your own thoughts. While it may awaken some interesting connections and inspire you, it is unlikely that you will be motivated to act on them until the mota has worn off.
Serious Seeds are proud to announce that they have incorporated 5 new strains which were originally developed and sold by Magus Genetics. The assortment of this small Dutch Seed Company fits wonderfully well into the menu of Serious Seeds. Just like Serious Seeds Magus has produced only a few seeds with unique and superb characteristics because of their outstanding quality they have won several awards and more importantly are loved very much by the people who've tried them. This short/squad Indica plant is the final creation of a long process. In the parental lines are older plants 'Starwarz' & 'Medizin Power' fused into this ideal indoor plant. A thick layer of resin glands on the flowers and single leaves, makes manicuring less necessary, and gives her a popular presence in every grow room. Excellent for indoor and closet rooms with limited height. A powerful aroma, sweet with undertones reminding of fresh paint, develops during flowering. The effect is an over whelming body stoned ness, nailing you to the couch while your mind is fuelled with creative ideas. Executing them however will have to wait till the effects wear off. Any 'boring' feelings will fall away after a hit of 'Motavation'! Medicinal plant!