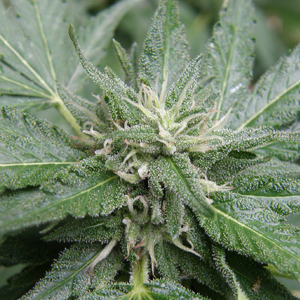 Madness
Type: Hybrid
Genetics: South Brazilian x Cinderella 99/Matanuska Tundra
Climate: Indoor / Outdoor
Flowering Period: 9 Weeks
World of Seeds Diamond Line Madness is a unique strain, whose breeders back crossed a feminized seed of so popular Cinderella 99 with a not less known Matanuska tundra. As a result of this breeding experiment, a stable 50% sativa and 50% indica hybrid came to life and is now enchanting us with her highest qualities: Madness is very easy to grow, clone and can handle more nutrients than most marijuana plants. Her effect, described as a nice head buzz and couchlock, "expandable and choking if you inhale too much" is definitely not for working and makes up for lacking strong odour and taste so loved by cannabis smokers. Growing feminized cannabis seeds of Madness marijuana can't be easier.
Almost 100% germination is guaranteed with an amazing vegetative growth. It's recommended to clip the plants back to keep walking space in your room. Flowering takes 8 weeks, after which the trichomes turn from clear to milky. She can be easily left for another week for a better result. Madness feminized cannabis seeds produce healthy and fast growing plants, but do not forget to top, tie and train this plant, because the branches will grow like vines and are very easy to manipulate. Average node spacing, with a medium to dark green colour, with medium size fan leafs. Once on a 12/12 cycle, Madness marijuana is recommended be trained for 12 days longer; on the 27th day or so, she stops her growth for full fledged flowering. Flowering is predictable and easily repeatable in an indoor environment in around 50 days.
Another surprise is a Madness trich coverage. This is also the most resinous strain. The buds are compact and firm and each one has numerous budsites. In spite of her petite size, 50 cm, this cannabis strain is a great yielder, she produces as much as 75 dried product per plant. Her feminized seeds happily grow also outdoors with normal resistance to diseases and pets.