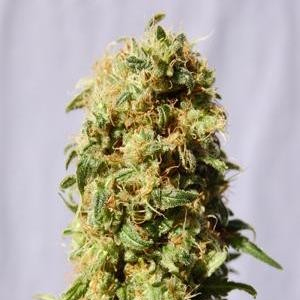 La Reina de Africa
Type: Sativa
Genetics: Central African sativa x Early Durban
Climate: Indoor / Outdoor
Flowering Period: 8-9 Weeks
This strain also known as African Queen is a 100% Sativa strain which inherits its early flowering traits from its Early Durban parentage. It has a liquorice flavour and its effects are highly stimulating. It is suited to both indoor and outdoor cultivation. This strain comes from crossing a Central African sativa strain with an Early Durban.
Recommended for novice growers because it is easy to work with, La Reina gives no trouble when growing, forming thick stems on the trunk and on the branches. The slim, serrated leaves — typical of AK varieties — have a dark lemon-green colour. The internode is short and the plant starts to branch out during the early growth stages to produce a large bushy plant. With controlled growing indoors you can achieve a spectacular, super-high-yield "Sea of Green".
Don't let this plant grow for too long indoors; two weeks will be enough for you can keep its exuberant growth under control. Good results can be obtained with a height of 60 cm.
Although it doesn't need large amounts of fertiliser, you should try to monitor the EC so that does not fall short. The leaves will start to turn noticeably yellow. Organic growing is best for this plant. Applying the right amounts of good earthworm humus and bat guano to the substrate will be sufficient, combined with regular watering.
Flowering is exuberant, with large, heavy bunches of flowers that never seem to stop appearing. Heavy, compact buds with a reddish colour, laden with resin. Produces good hash. The flavour is one of acidic tropical fruit leaving a slightly piquant aftertaste on the palate.