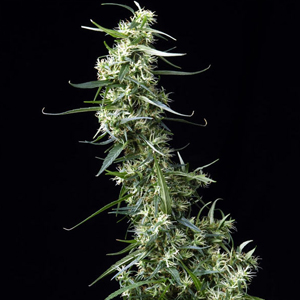 Green House Thai
Type: mostly Sativa
Genetics: Thai x Laotian
Climate: Indoor / Outdoor
Flowering Period: 98-112 days
The master breeders at Green House developed this Thai variety to honor the connoisseur qualities of Southeast Asian strains. The Green House Thai comes from a lengthy selection from the landrace genetics of Thailand. The aim was to select for non-hermaphroditic plants, since hermafroditism is often a concern with plants from this region. These true females were crossed with a male plant from the bordering country of Laos. Green House Thai is a long season variety, but the Lao male helped shorten the distance between internodes and speed up the flowering time. This Thai-Lao cross was stabilized and feminized to create the Green House namesake Thai strain.
Green House Thai is characteristic of strains originating in tropical paradise locations. It is a tall sativa with long, slender lime-green leaves and impressive branching. The extended lower branches grow almost parallel to the ground, making it a very space-demanding plant. Green House recommends growing this strain under conditions that allow it to be grown to full size in order to achieve good production. Trying to harness this plant to a smaller stature works against this plant's nature and will diminish results. Growing in a screen of green system offers enough space for the plants to spread out to full potential, and leads to a uniquely pleasing stash.
This plant is for the sativa connoisseur, the gardener with some experience, or the patient beginner who wants to experience an authentic Thai strain. The flowering time is over 14 weeks, and depending on the environment, may take up to 16 weeks to truly ripen to its full spectrum of cannabinoids and terpenes.
Green House Thai can be grown in either hydro or soil. When grown within its homeland, this plant performs very well outdoors, but the long grow season limits outdoor growth to the equatorial region. Nights must stay above 15 degrees Celsius (about 60 degrees F). This variety also needs proper beauty sleep to flower properly, with a strict regimen of the 12/12 photoperiod and no light pollution. While the light and temperature conditions are exact, Green House Thai is not a very demanding plant when it comes to feeding. An EC of 1.7-1.8 will satisfy all her needs. Because of the long flowering time, it is advised to keep the nitrogen at good levels until the 4th or 5th week of flowering, or the plants will yellow prematurely.
In the right garden, one that can ensure the necessary conditions and the lengthy season, the Green House Thai pays off with some highly introspective headstash. The flavors and aromas are delicate, nutty, and incense-like, with flourishes of sandalwood spice, cinnamon, and almonds. This strain will satisfy those who like marijuana for its mind-opening qualities. It is ideal for meditation, yoga, or any creative moment outside of the social sphere. It is also a very nice morning smoke because of the mild, but long lasting effect on the body.