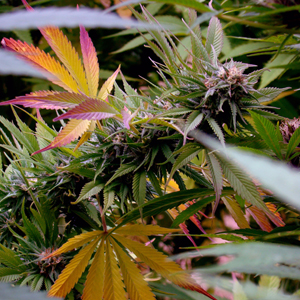 Exile
Type: 70% Indica / 30% Sativa
Genetics: White Widow x Northern Lights x Warlock
Climate: Indoor / Outdoor
Flowering Period: 60-67 days
Exile is adaptable enough to grow well in any of the usual indoor setups. To a certain extent growers can control Exile's branching to suit their cultivation style. Exile's nodes develop at right angles to the stalk, proliferating medium branches on top of each other. This is true both of mature plants and cuttings, and especially likely in low to medium intensity light. Thus growers can alter Exile's branching pattern by adjusting her light intensity. If a gardener wants columnar plants for a sea of green, the vegetative period should be shorter and the light should be kept more intense. Weaker lights on the other hand will encourage multiple branching.
Exile's multiple branches sprout more large, dark green leaves than its parent strains. Its pistils are cream colored changing to tan with maturity. As it flowers, Exile's foliage exudes a jolting sweet pine scent that gets much tamer in the dried buds, giving the smoke a soft pine needle flavor.
Exile is a very narcotic body stone. It is the main course, a smoke for people who don't have anything planned for a few hours besides dreaming. Magus Genetics is properly cautious about making medical claims. Like alcohol, Exile's indica knockout helps some users sleep but can backfire as a treatment for chronic insomnia. There are also reports of relief from multiple sclerosis symptoms.