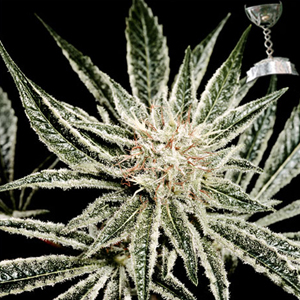 El Nino
Type: Hybrid
Genetics: Haze x Super Skunk Brazilian x South Indian
Climate: Indoor / Outdoor
Flowering Period: 56-63 days
Developed by Greenhouse in 1996, El Nino is an indica/sativa hybrid of South American and Indian strains. The strain was stabilized and made available in 1998, the same year that it took first place at High Times Cannabis Cup in the bioplant category.
Like the powerful weather phenomenon for which it was named, Greenhouse's El Nino washes over those who smoke it, creating a nearly overwhelming stoney sensation. A pacific variety, El Nino promises to alter your immediate atmosphere with a warm sociable feeling, but may also cloud your thinking with its sedating buzz. The strain is recommended as a tranquil nightcap to complete an evening.
El Nino is a medium to tall plant, with multiple branching and many budding sites. The short, fat flowers are resinous and have a strong lemon taste. Better as a multi-branch plant in an indoor garden, El Nino has a moderate yield potential. This crystally plant will alsoprocess well intohashish or kief.
The mostly equatorial origins of this plant make it suitable as an outdoor plant only within 40 degrees of latitude from the equator. Greenhouse recommends using hydroponic methods indoors for more temperate regions.