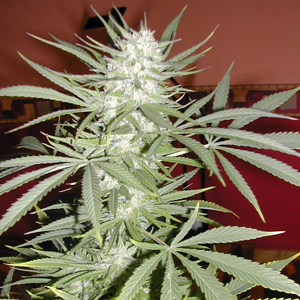 Early Skunk
Type: Hybrid
Genetics: Early Pearl x Skunk #1
Climate: Outdoor
Flowering Period: 8 Weeks
This is an amazingly vigorous outdoor cannabis hybrid of our Skunk #1 and Early Pearl resulting in an easy to grow marijuana that is early to flower and finishes two weeks sooner than the original Skunk #1. Early Pearl shortens the growing time down and adds a bit of mold resistance without taking any of the original skunk pungent sweetness away. This strain produces good yields of thick buds in a short time which deliver a smooth, pungently sweet taste and smell and equally smooth effects.
For excellent results and reliable performance, Early Skunk could qualify as the best all-round strain in the Sensi Seed Bank Outdoor collection. Now available as a feminized variety. Just like the original, feminized Early Skunk seeds produce tough, fast and amazingly vibrant plants that produce lush, heavy harvests of dank, frosted bud in virtually any climate.
Feminized Early Skunk seeds bring together the bulk and vigour of Skunk #1 and the outdoor hardiness of Early Pearl in a turbo-charged, all-female cannabis hybrid that is happy in the garden, on the balcony or in any outdoor location with access to direct sunlight.
The influence of the Early Pearl parent allows Early Skunk to finish weeks earlier than Skunk#1 and greatly increases the strain´s resistance to mould and fungus. The release of this superb outdoor hybrid as a reliable, uniform, feminized strain is the last step in perfecting Early Skunk – she´s potent, productive, hardy, easy and now carries no risk of producing male plants!
Indica features dominate the growth pattern of feminized Early Skunk, giving her a solid, resin-encrusted flower formation and massive yields. Early Skunk´s Sativa side causes extra ´run´ in her thick arms of bud, and is much more noticeable when sampled – imparting a smooth, buoyant high which blends with and lifts the warm, powerful Skunk stone, carrying it to new and interesting places.