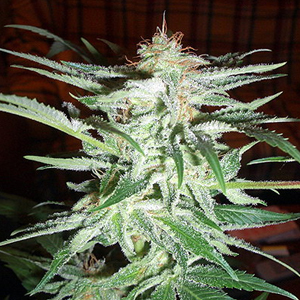 Delirium
Type: Indica
Genetics: Mazar I Sharif x Black Domina/Jack Herer
Climate: Indoor / Outdoor
Flowering Period: 8-9 Weeks
An f1 hybrid with some renowned family heritage. This strain combines a fine Mazar-i-Sharif strain with a Black Domina x Jack Herer hybrid.
What a unique combination of marijuana seeds! Mazar i Sharif began its conquering march from North Afghanistan where the strain is used to produced well known hashish. It was hard to resist its classic marijuana intense aroma and immobilising narcotic effect. Delirium is easy to grow, enjoys cold conditions, even snow, and turns deep blood red in low temperature. Black Domina seduces it's fans with broad leaves and heavy buds dripping with sticky resin. The fragrance of this cannabis strain is rich spiced fruit mixed with a bite of peppery hash. The effect is pleasantly overpowering.
Named after a world famous hemp activist and author of "Emperor Wears No Clothes" – an informative book on hemp and cannabis. Multiple winner of Cannabis Cups! Jack Herer belongs to a marijuana family with fresh peppery smell with a hint of fruit. Delirium seed combines the high standards of all three marijuana seeds: pleasure to grow, heavy early year harvest, intense peppery aroma with a hint of fruit, delicate Afghan taste and a strong cerebral and giggly edge effect. It contains 90% of indica and 10% of sativa. THC-15-20%. Give Delirium cannabis seeds 8 to 9 weeks indoor or outdoor and it will surprise you with heavy harvest of beautiful buds that become stick with fragrant resin.