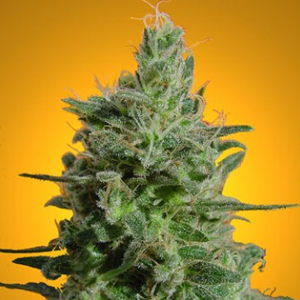 DelaHaze
Type: mostly Sativa
Genetics: Mango Haze x California Lemon Skunk
Climate: Indoor / Outdoor
Flowering Period: 9 Weeks
DelaHaze is a fruity sativa with a strong haze streak. It consists of two sativas, the Mango Haze and California Lemon Skunk. It is a solid indoor grower that adapts well to outdoor environments in warmer regions with a longer growing season. DelaHaze is a breed that has retained the desirable haze qualities in the high, but restrained the unwieldy garden characteristics that typically come with the haze-dominant strains, such as interminably long flowering times and lanky growth that quickly overtakes the grow space. The hardy and flavorful Lemon Skunk has been used to add moderation in this plant's garden qualities, while selection lets the flash of haze shine through in the final product.
Even though the dominant sativa-haze composition has been tempered in this cross, DelaHaze still has a tendency to stretch if vegetated for too long. Paradise recommendsinducing flowering early, before the plants gain too much height. A 9-week flowering time is short for a haze-influenced strain. To appreciate her fully let her flower one extra week. The fine citrus/haze flowers will fill the growroom with a beautiful aroma containing hints of citrus and mango in the dominant haze scent.
DelaHaze has potent THC levels yet still delivers ample yields. Indoor per-plant yields on multi-branch plants can reach 2 ounces (50g). Plants are best with multiple branches, and when vegetative time is managed properly, the increase in size during flowering will remain within a manageable range, around 3 feet (1 meter).
Haze fans have given this strain connoisseur ratings and reviews. The flavor is haze with sweet fruity accents. The high is a creeper with a clear-headed transition. DelaHaze is an active functional mood lifting buzz that avoids both heavy and sedating physical effects and the speedy or trippy mental quickening that some head highs induce. Instead, the sensation has a calm clarity, smoothing out the doldrums, and lightening the spirit to engage a more positive state of mind. A mild and pleasant body relaxation effect is often felt after some time has passed.
2nd prize in the Cannabis Champions Cup in Spain in 2009