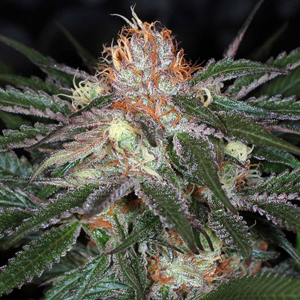 AMS
Type: Hybrid
Genetics: Swiss Indica x Swiss Sativa
Climate: Indoor / Outdoor
Flowering Period: 50-60 days
Greenhouse named this one-of-a-kind weed after the city in which it was born. For those fortunate enough to have traveled to Amsterdam, you may recognize this strain as the code for the city's international airport. Her indica mom, Fragolina, was chosen to breed with the father, Gran Flora to create this marvelous indica-dominant hybrid.
Bred to be a strain that would thrive outdoors, especially in somewhat cooler climates, AMS will grow to a height of up to 8 feet. While she can thrive indoors, she's somewhat finicky in this manner and requires the care, knowledge and expertise of an advanced horticulturist. She grows tall and tends to stretch a lot making her suitable for spacious indoor growth, but again, is better suited to the outdoors. She ranges widely in yield depending on how she is managed during the vegetative phase, but can reward growers with up to 3 pounds when grown outdoors. She's a notoriously slow starter but should be harvested no later than the 3rd of November.
When you open your jar of this precious medication to smell it, a warm toasty aroma of fresh, invigorating strawberries, apricots and plums will hit your nose. The smell itself is quite intoxicating, being just a precursor of the effect to come. AMS leaves patients with a complaisant body high, which slightly overshadows the uplifting cerebral stimulation. This strain is often seen in Europe as well as the Northern United States and Canada.